Making decisions about which baby gear to buy can be extremely tough for a first time parent! There are so many options for each of the many needs of a new baby. Should you go with a Travel System or with a Lightweight Stroller and a Convertible Car Seat that you can use longer? Which car seat brand is the safest? Which strollers are the most durable and most convenient? It is tough to find answers! As a first time mom, I have learned the hard way through expensive purchases that ended up hardly used but I have also found certain purchases and decisions to have been wonderful! There are many items that I have found that I couldn't live without and a few that I would recommend avoiding.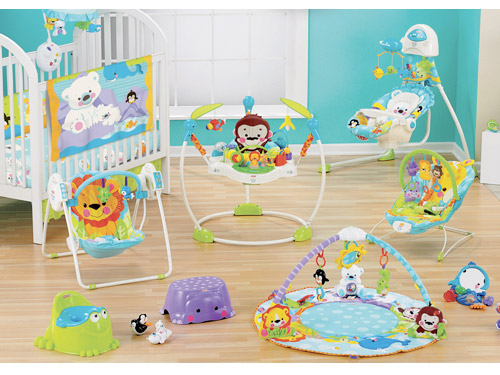 My first recommendation is a lightweight hig-quality stroller that is easy for travel and quickly collapsible. The Maclaren Quest Stroller is stylish, easy and light weight. I purchased the JJ Cole infant body support ($24.99 at BabiesRUs.com) which comes in graphite or pink and it made the Maclaren Stroller comfortable for my infant! I would recommend against buying a large bulky travel system because the infant seat is quickly outgrown and you will want to purchase a smaller, more stylish lightweight stroller anyway! Maclaren strollers are of excellent quality, very easy to use and are light weight. The only draw back when switching to the lightweight stroller is the loss of storage room. The Maclaren Universal Stroller Organizer has been a perfect solution when added to the Maclaren stroller. It has two cup holders and a large storage compartment which allows me have diapers, wipes and a bottle with me so that I do not have to carry a bulky diaper bag with me into the mall. I would highly recommend adding a Maclaren Universal Stroller Organizer to any Maclaren Stroller. Another recommended addition to any stroller is an attachable Maclaren Parasol. They come in various colors and are extremely necessary if you walk outside in a sunny area to keep sun off of your child as the stroller hood has limited sun coverage.
A Convertible Car seat (I use and love the Britax Advocate) with infant body support inserted is perfect for an infant and will grow with the child up to 65 pounds. Though expensive, it is the safest on the market and the newest of the Britax line. I find the peace of mind worth it. Pick up an infant body support to use this convertible seat with an infant and you will get many years of use from this great seat that comes with a lifetime warranty!
A life-saver for me that has allowed me to get chores done around the house and for my daughter to still be happy has been our Chicco Baby DJ Walker. She loves scooting around the house in it has so many buttons and keys that make music and animal noises for her to play with. My daughter is shorter and petite at 6 months of age but this walker has multiple height settings that accommodate her and will allow her to grow.
When looking into purchasing a pack and play, do not get distracted by the expensive, fancy ones with designer fabrics. Most pack and plays (of good brands) are the same and perform the exact same function well. If you go with the cheapest of a good quality line, you will get a good bang for your buck. The Graco Safari Friends is only $69.99 and works just as well as any other Graco! It opens and closes easily and has worked very well for us through three babies.
When purchasing toys, remember that your child needs novel stimuli more than fancy stimuli. If you buy some expensive toys, their novelty will be worn off and you will need more. So think creatively! Improvise with kitchen utensils such as pots and pans, colored measuring cups, funnels or a big wooden spatula! Fill an old water bottle with coffee beans and tape it tightly shut to create a rattle. When your child is playing at home these "new" toys will make for perfect novel stimuli without spending a fortune.