Blog candy at Aline :-)
Blog candy
Hello girls I

promised, here it is! And I decided to spoil you with not 1 or 2 but

3 winners!

Like all blogs candy, the principle is simple:
1) Post this entire post on your blog
and the link to my blog
2) Leave a comment in response to this message a link to the article on your blog

and that's it! No registration requirement for my newsletter.
CAUTION IF YOU SUBSCRIBE YOU BUT NOT LIMITED TO LISTINGS, I COME IN TO REMOVE TWENTY. But he

is there to gain??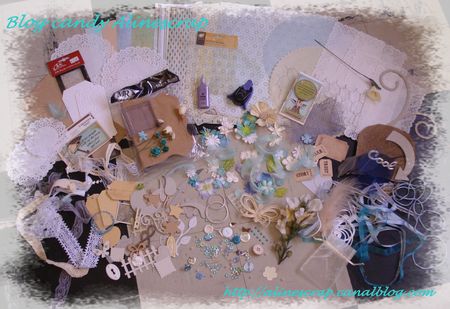 A lot of Basic Grey paper, napkins, mini Mayan road, a perforated corner of Mahé, a buffer, glitter, die cuts, tags, tickets, lace, ribbons, embellishments plaster, chipboard, wooden decorations, felt, stickers, beads, brads, buttons, flowers, roses shabby, pens, pins, charms, various decorations, etc. etc.


The first winner, one that has left comment following this message and spread the news on his blog, this will lot of papers and embellishments.

The 2nd winner will be drawn at random from all subscribers to my newsletter and receive a lot of embellishments, stamping, etc..
And the third winner, who will receive a kit of my full workshop, will be the person who over recent months have me left a comment original and / or moving! And yes some of you have the gift to touch me with their lovely comments, so I decided to reward you for your kindness and your interest in my own layouts! The important thing is not quantity of subscribers, but the quality, and I can tell you that many subscribers are gold!
I've selected a few, your keyboard thus feathers !


The winners will be announced in late January!

Good luck to all!

Kisses kisses